As many of you know, the 1st ever professional gay male
athlete has "come out". His names is Jason Collins, and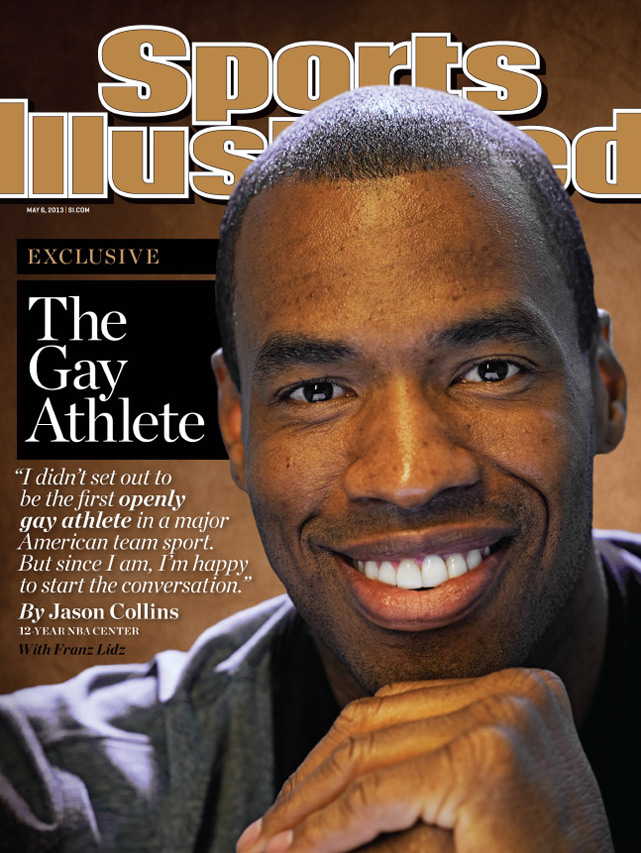 (good for you)
he has openly declared himself to be "34, black, and gay"
the twitterverse cheered, the NBA backed him, & players
got his back, & the culture as a whole all stood with him
Good for him. It must be hard to living in bubble with a
bunch of lies. I always think to myself, "how would I feel
(I'm sorta a dick)
if I had to hide the love between Sonja & I?". It'd suck!!!
Good for him, society's much better today, & it all works
And what does one little hateful right wing troll think?!?
Ben "I'm Paid To Lie For A Living At Breitbart" Shapiro,
tweeted this little "douchey gem" to gain some attention: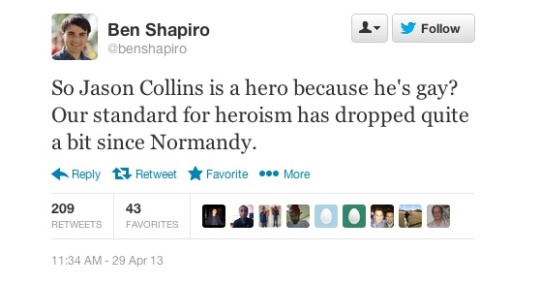 (hateful lil fuck)
what a little lying super little tiny nothing. "Hateful little
nothing", that deserves no more attention. So I will never
mention the pathetic ass again giving him views. Humbly
this blog gets over 14,000 hits a day, and over 23 million
hits. I'll use this, not to fan the flames of hate. No thanks
(hero issues)
So here's the thing. If ya read, support, or are subscribed
to Breitbart Shapiro's, it says more about you, & it is sad
GOP Marketing Turd Luntz Comes Clean
It seems even the wordsmith Frank "I Can Make Cancer
Seem Fun" Luntzy had a real moment with some U of P
("I always lie")
students in Pennsylvania the other day. Well, he asked it
to be "off the record". Ahem, when you're in a room full
of 100 other people, it's not "off the record". Besides, is
this now just 100 & your little secret that'd never get out
to the public? It did. Aakash Abbi, got this on his iPhone
"They(Rush & hate talk radio) get great ratings, & they drive
the message, & it's really problematic. And this is not on the
Democratic side. It's only on the Republican side. Democrats
have every other source of news on their side. And so that is a
lot of what's driving it. If you take-Marco Rubio's getting his ass
kicked. Who's my Rubio fan? We talked about it. He's getting
destroyed! By Mark Levin, by Rush Limbaugh, and a few others.
He's trying to find a legitimate, long-term effective solution to
immigration that isn't the traditional Republican approach, and
radio is killing him. That's what's causing this thing underneath.
And too many politicians in Washington are playing coy."
how did Franky react after this broke? He pulled the scholar
ship to his Alma Mater, under his dads name like a petulant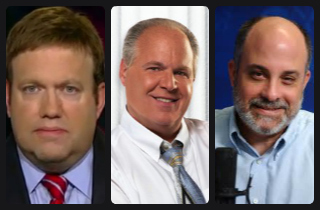 (the "Whore Collection")
child. Classy guy. He knew this was a room of 100 strangers
but the point was clearly made. The right will attack him, &
ask him to lick the undercarriage of power. He will, cause he
wants the $. The difference between Frank & a hooker is the
hooker openly admits it. While Frank's still wrestling with it
Don't worry, the uncivil war you started ends the whole GOP
Tomorrow: Sucky Louie Gohmert, Asshole Of The Week
Have a day!