Obama won the debate last night. By my count that makes it
("gonna bust you up")
2-1 in the presidential debates, and 1-0 in the VP debate…or
what I'd like to call "the useless JV squad game some ignore"
Mittens decided to attack Obama with the silly concept that
"the Navy is too small & has fewer ships than it did in 1916"
(Boom!)
Obama responded, delivering this side-head-slap KO meme:
"Well, governor, we also have fewer horses & bayonets…We
have these things called aircraft carriers, where planes land
on them. We have these ships that go underwater, nuclear
submarines. And so the question isn't a game of Battleship,
where we're counting ships"
(charge!)
Slap, pow, burf, wang, boom, thud, snert, zing, whammmmo
Horses & Bayonets is my new indy rock band. We're playing
the Metro in two weeks. Our new single is "Titty Sandwich"
CBS snap poll had Obama winning 53% to 23%. But for FOX?
Ohhhhh fucking hells no he didn't win. No Democrat has ever
("you're clueless")
won in debate on their channel in the history of forever. When
a Republican wins, it's a "crushing victory". But when any R's
lose, it's a "tie" when they got beat bad, & it is a "win" if closer
See how that works?!?! Mitt pretended to be "Obama Lite" and
it was a really really really really bad idea costing his political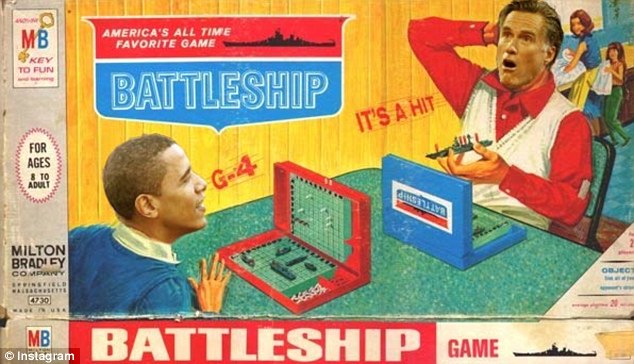 (whoopsie)
views a slow odd death in front of his party. Guess they're the
last to know about it *cue Price Is Right losing horn*. Uh-oh
Oh, & my favorite "Mitt Geography Lesson" of the night was:
"Syria is Iran's only ally in the Arab world. It's their route to
the sea. It's the route for them to arm Hezbollah in Lebanon,
which threatens, of course, our ally Israel."
Are you fucking serious?!?!?! He wants to be president but yet
(Sarah Palin Jr.)
doesn't even know that Iran has two routes to the sea, both in the
north & south. Mittens played it safe, but when you're a political
candidate suddenly agreeing with your opponent now saying, "I'm
gonna do exactly what THAT guy is doing, just better. I'll not give
you specifics, reasons, or answers. Check me out!!!" doesn't work
Last night Mitt Romney literally became "The Thing". He tried to
(never was)
mimic the "host" just like in the movie. It was odd, & 1/2 expected
him to be the first black president married to Michelle by the end
Have a day!