His ideas are pretty fucking simple. Cut all government programs
By 2050 91% of government would end under his budget plan. 91%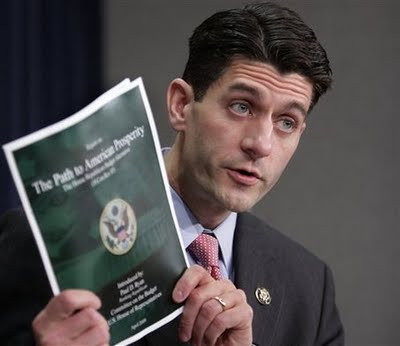 (The path is "up yours")
Fuck the middle class, the poor, old people, college kids, students,
unemployed, CIA, jobless, veterans, or anyone aside from the top
3%, corporations, or all banks. We cut your shit, to give to the rich
in the form of "tax cuts". If we don't collect it from you, then we got
(Tune in Tokyo!)
nothing to pay these programs. Rather than make them pay, we say
"Eat shit", & the programs all end. It's called starving it. It is exactly
what Grover Norquist wants to do, just way fucking faster. Oh, Paul's
favorite hero is Ayn Rand. Her works of fiction in which all her hero's
(I kill you)
in the stories are built after a sociopath child killer named William
Edward Hickman. She saw him as the height of man, a "superman"
Her exact quote, "He has the true, innate psychology of a Superman"
Classy stuff she created. Her entire world saw selfishness and greed
as the height of man, & she called altruism "evil". Nice charming gal
(Agh! A face for radio)
Well Paul Ryan decided to gush at length about her in this little clip:
"Sales of Atlas Shrugged have surged with Obama administration
coming in. It's that kind of thinking, & that kind of writing that we
sorely need right now. I think a lot of people would observe that we
are right now living in an Ayn Rand novel metaphorically speaking
The issue that is under assault…Ayn Rand more than anyone else,
did a fantastic job of explaining the morality of Capitalism, the
morality of individualism, & this to me is what matters most. It's
not enough to say that Obama's taxes are too big or the health care
plan doesn't work for this/that policy reason. It is the morality of
what is occurring right now, & how it offends the morality or
individuals working towards their own free will, to produce, to
achieve, to succeed that is under attack. And it is that what I think
Ayn Rand would comment on that we need now more than ever"
If you want to know how this man thinks, simply listen to his words
He cites HER as the main reason he got into politics & public service
His "morality" is "it's all about me, you can go fuck off". If that's the
thing you want. Vote for him. I have a sneaky feeling that's not what
(Watch out)
people want. We at our very core know we exist in a modern society
No man is an island. Least of all should be someone tasked with the
job of serving others. Paul's best served being CEO or a banker with
his views, not an elected servant. Knowing how to treat your fellow
American's should instinctually come with governing others in 2012
(Up yours)
But Paul doesn't care. He doesn't apologize either. Which makes him
a special brand of human shit. The kind that stinks bad & doesn't care
Have a day!