"Chug This Glass Of Sh#t". Soon to be followed by:
(Wrong FOX)
-"Plane Full Of Whores"
-"Pants Filled With Scorpions"
-"Kick Your Cheating Spouse In The Crotch"
And "Hell's Kitchen"
Reality TV should be taken to a place where creepy angry drifters hang out
(Oh, it's real)
Then take away their phone & money, and leave them…forever
Steve Quits Job
You've heard by now, Apple CEO Steve Jobs has stepped down
(Yes you do buddy)
He had pancreatic cancer before, so it's not a stretch to think it's related
But best of luck Mr. Zillionaire. Maybe you can invent the ipancreas
But Apple will go on, and eventually create: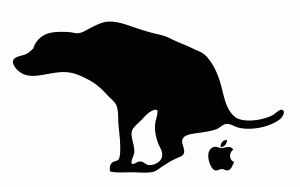 (Crapple?)
-iworld
-ishit
-ijobs
-idad
-ican't
-iwon't
-ishouldn't
-iwill
-ihigh
-iwin
Have a day!