Elderly white ladies with still functioning "mid-air" pinkies…
And 5 year-old girls in their backyards with stuffed unicorns named "Sugar Wings"
But last night the Tea Party won a victory in Delaware!
(I won?!?!! No way)
Tea Tard Christine O'Donnell defeated Republican establishment guy Mike Castle…
With her come-from-nowhere win Tuesday night, top Republicans now see virtually no chance the GOP will be able to pick up the Delaware seat this fall. As a result, their already slim chance of winning back Republican control of the Senate is dead
Way to split the ticket for Republicans by electing people "farther" right
Who is O'Donnell? She's a far right Tea Party activist…
You might remember from an MTV 1996 apperance on "Sex In The 90's"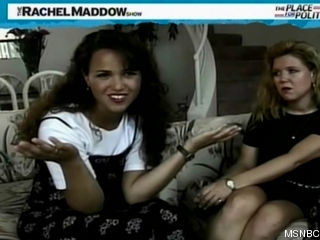 ("I'd use both hands if god let me")
Her stance: "Masturbation is wrong"…
Sorry Christine, I didn't hear you…I was just pulling my goalie to horse porn…
It seems pussy Democrats who must govern more progressively
Will still be in power come November by default. Only to let some policy be watered down by the loud kid the room banging a pot with a wooden spoon running around the kitchen yelling "You smell like farts". Sadly that has become today's GOP Republican party, while TP folks keep splitting the ticket by going farther right
(Weee, fuck you Obama!)
Since you jackholes are in charge I got a idea…
Spank his ass, and do the shit people elected you for
Have a day!