-CONWAY, S.C. – A man caught having sex with a horse in a South Carolina stable has been sentenced to three long years in prison. His lawyer had no comment…
(It starts at an early age)
The man even took a photo of the event, then had it mounted. He also claimed it was stall better than his wife, but during sex kept asking "Why the long face?"
-Canine artist Sammy was trained by Mary Stadelbacher, president, founder, and lead trainer at Shore Service Dogs in Maryland. Stadelbacher taught her dogs to paint, but Sammy was a real natural. Sammy's paintings sell for up to $1,700.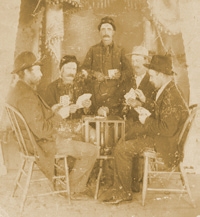 (Old timey poker)
His latest work was humans playing poker…
-JOHNSON CITY, Tenn. – Jim Stevens is not particularly religious and clueless about why an image resembling Jesus Christ keeps appearing on his pickup. Stevens, said every morning, an image that looks to him like the face of Jesus Christ has appeared in the condensation on the driver's side window of his Isuzu truck.
Leading to the question WWJD-What Would Jesus Drive?
(A Pontiac Fiero?)
Show tonight! Get there! Have a day!