Vick will be allowed to serve the final two months of his sentence under house arrest. When asked if he felt sorry about all the events, the superstar of cell block D said, "Obviously dog fighting got me in the this mess and it's in my past."
(It's a clip on tie)
He then offered, "Besides dogs are old news, I'm into something new…
UFC style cat fighting!"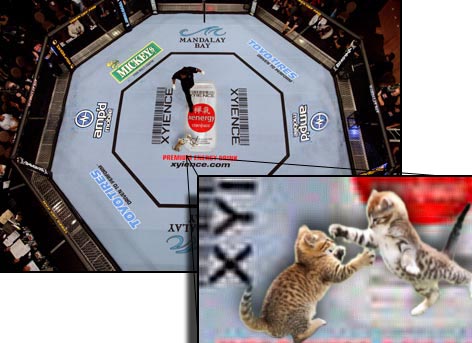 (Lord Clawington hits Nibblez)
Speaking Of The Octagon!
If you haven't heard by now that the Octuplets mom was offered a job in porn. 1 million dollars from Vivid entertainment for a role to be more presice…
What else would you offer a single mom of 14 kids, with no job, living at home? A stable filing clerk job at AT&T to help her stand on her own feet? Nope. The first thing that comes to mind is porn. Bang, perfect fit…
I'm calling dibbs on the awesome titles: Octapussy, Eight Men In, or The Cocktagon…loosely based on the Chuck Norris movie…
(Knife go stab)
Are we done with this thing yet? Flush…
Good news, make sure to check out extra bullshit today. Have a day!