More singing and dancing than a gay pirate ship…
On the gay sea…sailing toward the Cape of Gay Hope…
(She looks better in a dress than Nixon)
Fun? Yeah. Hard working? No doubt. Funny? Not so much…
Where were the jokes? I guess when the economy stinks, we no get-a the jokes…
Don't the Tony Awards have singing and dancing? When did they merge the two?
Highlights:
-Stiller as Joaquin
-Seth Rogan & James DeFranco on the couch with the MILK reference…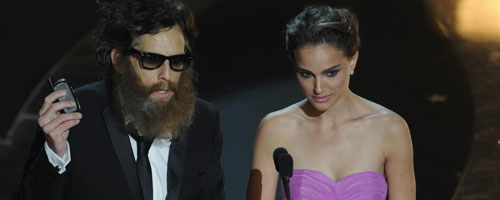 (He's Stiller got it)
One film sounded like a disease…
All night I found myself saying, "I got a curious case of the Benjamin Buttons"…
Thanks to Scott for a great drinking game. It was fun, and I tied in our Oscar pool.
How do you tie? No super hero films got squat…that's how you tie…
Editing all day today for a big project so…
Thanks for stopping by, stay classy San Diego, and have a day!