On January 20th, 2009 our 44th president Barrack Obama will be sworn in, ushering a universal hope for a new kind of America based on truth, freedom, equality, and transparency…
But screw that trivial shit when when we got his rookie trading card…
(Love the fro)
The statics on back were interesting. For example he averaged 5 assists, 12 points, and 3 non-threatening heterosexual ass slaps to team mates for encouragement each game.
His ears span over 17 feet in both length and width…
His shoe size is ∞…
His nick-name was "Now-look". In Hawaiian they called him "Loloa wiwi 'ele'ele kane me 'olu'olu mino'aka a me nui ule", which means "Tall skinny black man with nice smile and big surfboard"…
No matter how stupid these new Topps cards seem, at least they're not these…
(Mouth shedding gum inside)

Bush Goes Out With A Fart
The last time Bush addressed media, a shoe was thrown at him.
Scratch that, two were thrown at him…
No shoes made an appearance at the request of Dr. Scholl's…
(He blames his janitor for the last 8 years)
He said that "not finding weapons of mass destruction was a significant disappointment." The accusation that Saddam had and was pursuing weapons of mass destruction was Bush's main initial justification for going to war…
That's like saying about my new wife, "not finding out she was a man with a penis before we married is a significant disappointment"…
You get "significantly disappointed" at the end of bad movies, bad dinners, and bad sex…not starting false wars…
For starting a preemptive war without correct intelligence, knowledge of the region, or understanding of the culture, you basically took the family dog and repeatedly fucked it in the ass. For that, all of America and history is "significantly disappointed" in you…
(His new budget calls for miniature workers)
Like Celebrity Apprentice, a fat kid on an exercise bike, and people holding pot in airport security lines; you're just happy when it's over. Thankfully he will be too…
Sign Seen
They really seem to trust your bladder…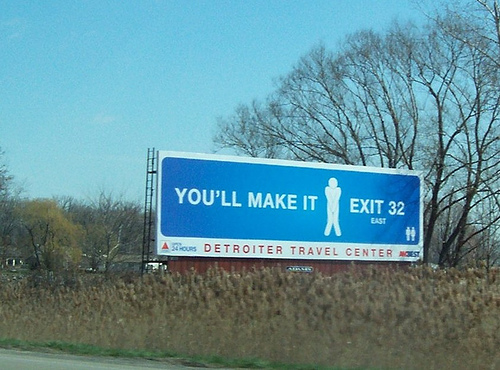 (Go in the woods)
Go have a day!