Roland Burris…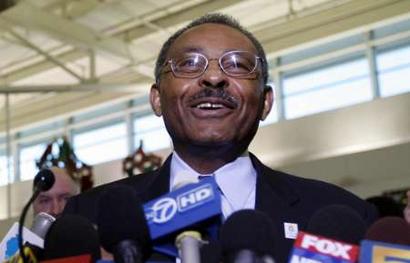 (Somebody likey attention)
And ex-Bear/Packer Henry Burris…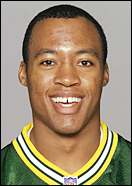 (You can park a car in the gap)
What do they have in common?
One was a solid politician who only took a job from a 5th rate lying soon-to-be indicted governor because no one else would take it. The other was a solid QB from the CFL who took a job only because everyone else was injured, the coaches were going to be fired, the season was lost, and no one else would take it. They're panic button selections…
They were basically offered a job by a failed administration whose powers were tainted in utter failure, because it was known they were just desperate enough to take it…
For Roland, it's pay-to-play Blago and his crooked office he'll soon be ejected from. For Henry, it was 2002's John Shoop, Dick Jauron, Jim Millers injury and Chris "Crystal" Chandler's concussion for him to even sniff the field. He got his first NFL start…
(He's great when no one's around)
I remember how well that went. He was 8 of 22 for 50 yards and a touchdown against Carolina but fumbled twice in the loss. He was 7 of 19 for 78 yards and four interceptions against Tampa Bay with a 10.3 QB rating in the loss. Take a loooooooooooong hard look Roland…
The Biggest Looser Is Us
Now they're actually PROUD of having the heaviest Biggest Loser contestant…
(It's two orange houses with round roofs)
The kids name is Daniel and he's 454 pounds. If he were able to loose HALF he'd still be 227 pounds. He's two overweight human beings. TWO. How does that happen? Yes sometimes it's glandular, other times it's the five large pizza's with everything on it washed down with a 30 gallon drum of Mountain Dew…for lunch…
Is it good that overweight people lose weight, gain self esteem, and feel better? Yes. Is it good that they do this with utter lack of shame for network profit on national TV knowing viewers are at home saying, "holy balls Sarah that guy is three fat Elvis's" mixed with other shitty fat jokes all while attempting to become pseudo celebs themselves?
Fuck no!
(It isn't just a movie)
If we only demand to see the sad extreme existence of our humanity simply to hold it up for easy mockery with no sense of shame, I'd like to suggest some new shows to watch…
-"Chugging Urine"
-"Putting Pets To Sleep"
-"Taints Of The Stars"
-"Old People Driving Into Shit"
-"Butt-fucking Things Bigger Than A Universal TV Remote For Cash"
Have a day!