is right around the corner!
My fantasy football league draft is this Thursday…and it got me thinking…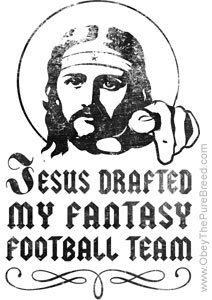 (Even our savior can't decide if he wants Brain Westbrook as the #4 running back)
What if the idea of people guessing/gambling on the measured output/efforts of professionals reaches new industries besides sports?
Fantasy Cashier-Where speed, accuracy, and service with a smile earn you the most points possible. If their drawer doesn't balance out at the end of their shift, watch out. Points go bye bye. I drafted Doug Friedbig from Burrito Beach in the loop. He's 17, has bacne, and stellar math skills. This pick was on potential…
Fantasy Psychiatrist-If they help people it's mega points, but if any of their patients kill themselves, others, or need to institutionalized, watch out. Points go bye bye. I drafted Dr. Laura Schlesinger; she was all that was left. It's a definite weak spot on my roster…
Fantasy Lawyer-Lying, cheating, cutting deals, and winning cases with fabricated evidence all get you huge points! If their client suddenly remembers he did kill that family of five and stuffed their bodies in a green canoe, points go bye bye. I drafted Rusty Hardin(Rodger Clements lawyer). This could be my sleeper pick!
Fantasy Law Enforcement-Arrests, busts, drug trafficking rings exposed all earn massive points. If you get busted for taking bribes on the job or emptying your clip in the chest of an unarmed black tourist for no reason, points go bye bye…and so will your badge. I got NYC beat cop Frank Meatcut. He's a work horse, and the best available at his position…
Fantasy Prisoners-Silence, shiving, solitary, and tossing salads all earn big points. Snitching, switching gangs, will cost points…and your life! I got 437820081, and he seems like a real bad-ass from the bloody letters I get, but it's on My Little Pony stationary. This pick is a wait and see…
Start your own league today!!!